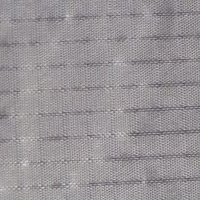 Non Breathable — Traillix B
Lightweight ripstop nylon 66 fabric, PU-coated on one side. Carefully selected to be waterproof after prolonged use. Grey color blends well into natural backgrounds.
Ventilator cap: single piece with two opening points,
controllable from inside the tent
Storm cords: supplied loose
Storage bag with drawcord top and compression straps
3 minutes to erect tent
Standing room
Class-leading storm resistance
Use with open fire or stove
Use on its own or with any model of floor or inner-tent
Door: double-zip with integral mosquito protection
Hanging loop for drying
Construction
The Onyx is our entry-level design for economical backpacking and tent camping. The fabric has no heavy reinforced edging at the bottom, as found in the Zirkon and Safir range.
Onyx has a one-piece ventilator cap and chimney opening, with two opening points, controllable from inside the tent
This Nordic tipi has no special fresh air intakes at the bottom like Zirkon and Safir, but comes standard with a mosquito-protected door which can be used as an air intake plus simplified indoor ventilation regulation.
Despite its simpler design and materials, Onyx remains an excellent Nordic tipi with high scores for safety and performance in heat, rain, snow and cold. As with all our Adventure range, you'll have loads of space and full standing room, plus that rare luxury — a companionable open fire or tent stove if you desire.